Discover cool things to do
in Las Vegas !
Book with confidence Real-time availability, instant confirmation, and free cancellations.
Top quality activities Over 1803 tours and activities you'll love and remember forever.
Thousands of reviews Verified traveler reviews empower you to pick the best experiences.
Award-winning Support Friendly customer service, when you need it: Call, click, or chat.

Free Cancellation
You'll receive a full refund if you cancel at least 24 hours in advance of most of our tours.

Verified Reviews
Book with confidence with thousands
of verified traveler reviews from
Cool Las Vegas and TripAdvisor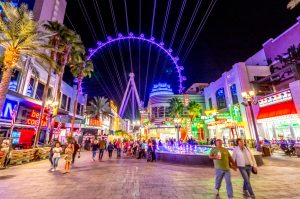 Things To Do in Las Vegas
Las Vegas sparkles like a neon diamond, luring visitors from around the world to discover that luxury casino hotels, incredible nightlife, world-class entertainment, fine dining, and endless shopping barely start the list of amazing things to do in Las Vegas. The attractions, tours, and activities in Las Vegas are literally endless and changing every day. You need help to keep up with the action, and Cool Las Vegas is your personal Vegas concierge and ultimate guide to the best things to do in Las Vegas.
The movies, songs, stories and legends are all true—America's legendary resort city can deliver a vacation experience unmatched by any other destination in the USA. The city's setting is one of sharp contrasts, and many first-time Las Vegas visitors are surprised to find such a whirlwind of action and entertainment deep in the remote southern tip of Nevada where the Mojave Desert touches the mountains.
But sand, rock, and sage brush give way to the fabulous Las Vegas Strip, lined with fantastic hotels like Planet Hollywood, Bally's, Harrah's, The Mirage, the opulent new Resort World complex, and many others. Basking in the desert sun during the day and burning bright at night with casino lights, star-studded stage shows, and every other type of diversion imaginable, Las Vegas is a city that can make the wildest fantasy come true or deliver perfect relaxation in the luxury of a city-view room or the shade of a pool-side bar.
As an iconic destination resort that has been drawing business tycoons, Hollywood stars, gangsters, conventioneers, tour groups, and adventurous travelers from around the world since the 1940s, Las Vegas easily makes America's must-see list. And gambling, stage shows, fine dining, and famous cocktails are just the basics. Las Vegas tours and attractions run the gamut—classic bus tours, happy hour bar crawls, night-time helicopter flights above the city, crazy pool parties, strip clubs, celebrity chefs and so much more—if you can imagine it, Sin City has it.
And this is just a tiny sample of the things to do in downtown Las Vegas. Even more adventure awaits just outside the city, where you can visit the Hoover Dam, the Grand Canyon, Death Valley and many other natural wonders unique to the western deserts of the US. Explore the wild country on an ATV, go whitewater rafting, ride a horse, shoot a machine gun, visit a ghost town, hike, bike, and hunt for alien life forms. It's all right here at Cool Las Vegas, your carefully curated online Las Vegas visitor center where the wonders of Internet technology, 100% secure booking, instant ticketing, and 24/7 customer support make it easy to build the ultimate Las Vegas visit.
Las Vegas Attractions
What happens in Vegas stays in Vegas—classic watchwords of the frontier city that hosted its first casino hotel, the Golden Gate, in 1906, then began to boom when Nevada legalized casino gambling in 1931. But the Vegas of the early days, an adult entertainment mecca, has now been transformed into a resort city that caters to visitors of all ages, and stories about Las Vegas attractions—what happens in Vegas—have spread around the world.
It is easy to identify the top Las Vegas attraction—over 40 million people from America and abroad come to Las Vegas every year, and casino gaming revenue tops $10 billion dollars annually. It's clear that nightlife centered around the casinos and clubs, gambling, drinking, and dining ranks as the best thing to do in Las Vegas. Grab a bus tour, join a bar crawl (or a daytime pool crawl), hit the strip, and experience old-style Vegas at Fremont Street. Go from mild to wild because the options in this category are nearly infinite, and after all, this is what Las Vegas is all about.
On the day side, you will find many fun, family-friendly activities in Las Vegas. Open-top bus tours, a wide variety of museums, a giant Ferris wheel, roller coasters, movie-themed interactive exhibits and adventures, souvenir shops and candy stores, ziplines, go-karts, mini-golf and lots more keep the excitement level high for visitors young and old. Try the Las Vegas Explorer Pass for an easy way to combine tickets for up to 7 attractions right on your mobile phone so you can minimize lines and waits while accessing some of the best Las Vegas tours and attractions with your group.
Beyond the city lights, you can find natural and man-made wonders of the world. The amazing Hoover Dam, constructed between 1931 and 1936 in the Black Canyon of the Colorado River just south of Las Vegas, was at that time the largest concrete structure ever built. A couple of hours further south and east into Arizona, Eagle Point and the spectacular Grand Canyon Skywalk offer incredible vistas from sheer cliffs dropping thousands of feet to the river below. There is nothing else in the world quite like it. You can also visit iconic southwestern highlights like Death Valley, Antelope Canyon, Red Rock Canyon, Bryce Canyon, Zion National Park and more. Las Vegas lies in such a rich natural setting that your only real limitation is time.
Recommendations: The Best Things to Do in Las Vegas
For an in-city Las Vegas best-of, a bar or club crawl with a local guide, or a night time walking tour are top choices. In a city with so many entertainment venues, it is nearly impossible to sort out the highlights without some experience on your side. Fun, safe, with no transportation worries involved, a bar tour is an easy way to learn the city and get in a night of partying while doing so. On a related note, when exploring the downtown, the Fremont Street Experience is a must if you want to capture the feel of Vegas as it was in the 1950s. Be sure to step into the Golden Gate Casino for one of their famous shrimp cocktails.
Another great Las Vegas attraction comes in the form of the wide variety of stage shows available. You can catch world-famous performance artists such as the Blue Man Group and Cirque du Soleil, and top magicians like David Copperfield, Shin Lim, Penn and Teller, and Criss Angel. Leading musicians have always played Vegas residencies; that is a tradition that has not changed a bit. Just check to see who is in town and you might have a chance to see your favorite artist without having to hope and wait for a show in your hometown.
Eagle Point in the Grand Canyon West area about 120 miles east of Las Vegas is one of the true wonders of the world, and a visit will deliver lifetime memories. The site is located on Native American land, on a side canyon feeding into the main Grand Canyon, with the Colorado River almost 2 miles below and awesome scenic views all around. The Eagle Point Visitor Center features a gift shop with Native American crafts. A shuttle takes visitors to walking trails that wander through a number of interesting historical exhibits and in some places provide the brave with opportunities to hang toes over 1,000-foot plus vertical drops The famous Grand Canyon Skywalk extends a clear glass viewing deck 70 feet out from the edge of the canyon over a vertical drop ranging from 500 to 800 feet straight down. Not for the faint-hearted but most certainly a unique and wonderful vacation highlight. Aircraft and helicopter tour options are also available at the visitor center.
Experienced travelers and technology wizards with decades of experience in the visitor service/tours and attractions field, the team at Cool Las Vegas has put all the best things to do in Las Vegas together for you right here. Fun browsing through interesting pictures backed by plenty of detailed information makes it easy to plan a future Las Vegas visit or find great things to do in Las Vegas if you are already in town and looking around. Just choose your favorites and click to get all vouchers and necessary details delivered right to your mobile device. Book in confidence that all of your information is protected by the toughest security protocols, and reach out to our friendly customer service reps at any time if you have questions. Welcome to Cool Las Vegas!